Online Training with Jewellery Training Solutions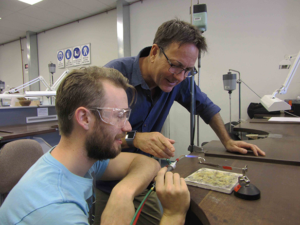 Master Jeweller Peter Keep heads up the A.J.M.D online training resource.
The program Jewellery Training Solutions offers is recognised by the Jewellery Training Council of Australia.
With a diverse range of units to undertake, you can have confidence that by progressing through each unit as directed.
The Online training option is delivered in 10 Stages. At completion of each stage you will attend the Academy of Jewellery Manufacture & Design for your face to face assessment process and so that you can present your portfolio work.
By undertaking one full day per stage we will be able to collect and collate your evidence for submission.
The Academy of Jewellery Manufacture and Design works with the Nationally recognised Jewellery Training Solutions resources to give a greater diversity of course facilitation for the student, without skimping of Education Quality.
If you would like more information on how to begin just contact us using the link below.
Enroll here for the Certificate III Online Jewellery Training

This program is delivered in a combined format. Offering the flexibility of Online learning with the back up support of face to face contact.
As you progress and complete each stage of the online course you will attend a face to face session at the A.J.M.D. at Studio41 in Strathalbyn.
You can discuss or go over any challenges you are having while the work you have completed is assessed. There is also timed exersize for you to undertake for your final assessment.
The Online course cost is $6,600.00 which includes your assessments,  your face to face contact and your portfolio. Online Resource is paid direct to JTS.

Please follow this link below to begin your Certificate III Jewellery Manufacture Online course. You will be asked to register for your education bundle which you will have 18 Months to complete. You will be invoiced for the face to face and certification separately upon enrollment.

Enrol in the Online Jewellery making course