Short Courses are a time effective way to value add to your productivity!
Threading Gemstones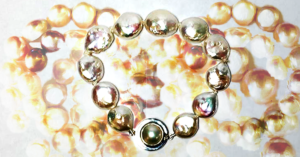 Traditional Skills are hard to come by these days. Threading of Gemstones is no different. While YouTube has a million and one ways to do it, Traditional skills will allow you to stand out in the crowd.
Learn the little things to look out for, what makes great knots and how to use your finding to their best potential.
Combine this course with our "Gemstone identification course " This will give you maximum benefit to produce work from your own studio.
1 Day program 9.30am to 4pm
Fully Equipped Workshop
Silversmithing and Object Making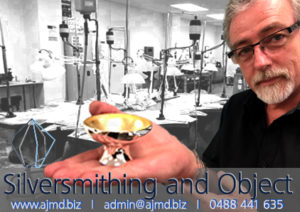 Creating Heirlooms of the future. This Short course will enable you to develop your skills in the art of moving metal in the direction you want it to go. All the constructions of Hollowware (Bowls) and Flat ware (Cutlery) are created by Sinking, Raising and Forging.
These projects can be personalised as Bequest Treasures for family members or stunning conversation items for your dinner parties. This course will open a whole new world to the individual who can continue onto the Advanced Silversmithing and Object Making Freelance course set to run in 2017.
3 Day program 9.30am to 4pm each day
Follow on course Master Silversmithing, anticlastic, raising and sinking
Introduction to Enamelling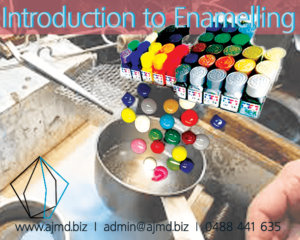 The use of colour other than using gemstones is an exciting way to bring a piece of jewellery to life.
Enamelling has been used in Jewellery Making for many centuries.
This is a course that will encourage you to pursue well after you have completed it with us. We will show you how to set up a homemade kiln and how to use a gas torch for open firing. This will allow you to make unique pieces from home.
Combine this course with our "How to set up a working Studio " This will give you maximum benefit to produce work from your own studio.
2 Day program (12 hours) 9.30am to 4pm each day

Fully Equipped Worksho

p
Wax Carving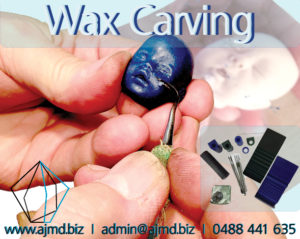 Wax carving and casting is one to the oldest forms of Jewellery Making known to mankind. Learn how to carve and file wax into master patterns that can be cast into all different metals of your choosing, From Stirling Silver to 18ct Gold.
2 Day program (12 hours) 9.30am to 4pm each day

Fully Equipped Workshop
Repousse' and Chasing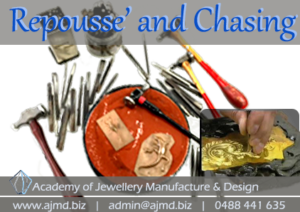 The Term Chasing is derived from the non "chase" which refers to a grove, furrow, channel or indentation. Chasing is used to define a three-dimensional shape in relief usually in sheet metal. The techniques of repousse' and chasing use the malleability of metal to form shape by degree.
Repousse' and Chasing is one of the oldest crafts known to mankind.
The art of pushing, shaping and moving the metal takes control and self-discipline.
This course will teach you the science behind precious metals and how and why they move so fluidly when caressed with a finesse hand.
Highly popular, this course fills quick and there are only limited positions.
**Some precious metals extra if requested by student. Materials invoiced on Sunday.
2 Day program (12 hours) 9.30am to 4pm each day

Fully Equipped Workshop
Working with Gemstones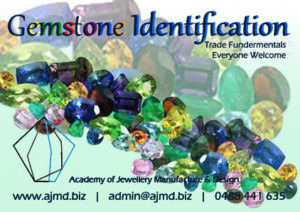 This is a Fabulous course for everyone!
"One of the issues for all new Jewellery makers is how to set gemstones in their items. There is very little that is more heart breaking than cracking, smashing and fracturing Gemstones as you set them. When you have completed a beautiful hand fabricated piece of work only to find that the gems you have used were unsuitable for your design or contained inclusions that you were unaware of." Jacques Fabian
This course provides the basic gemstone knowledge that will assist you to make an informed decision of what Gemstones to use and where. This knowledge will assist you when designing and fabricating your product, that way you will gain the desired result from your hard work.
2 Day program (12 hours) 9.30am to 4pm each day
Making Mounts and Settings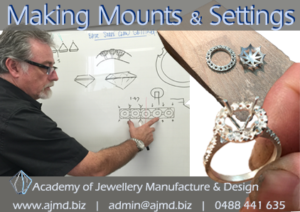 Before you can truly set a gemstone with confidence you must first understand how the setting is made. It is simply essential to produce quality items you must understanding its construction.
To produce the correct support for a gemstone the Manufacture of the Mount Must be precise and relevant to that gemstone.
This whole course is dedicated to educating you in the skills and processed of how to make the various mounts and settings that hold gemstones.
This course is fundamental and paramount if you would like to set your own Gemstones.
**Please note this is not the Setting course
3 Day program 9.30am to 4pm each day

Follow on course Gemstone Setting
Gemstone Setting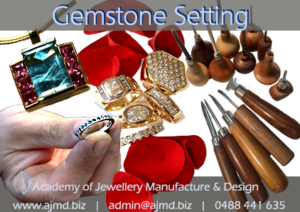 Now that you know how Mounts are made, you can consolidate the skills and processes that go into the Gemstone setting procedure.
You will learn:
 Cutting Bearings and Seating a Gemstone properly

Bezel Settings

Claw Settings (Various)

Pressure Setting

Bead and Grain Setting

Share Claw Setting
3 Day program 9.30am to 4pm each day
Ring Making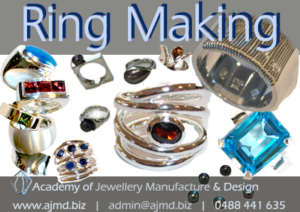 It's all about the Ring!
Learn about Undercarriages and what they do through to Shank variations such as:
We cover some specialised finishes such as Gilt and Textures. So many outcomes the list is endless with what you will do with the skills obtained from this course.
3 Day program 9.30am to 4pm each day

Follow on course Texturing, Colouring and Patternation
Communicating through Design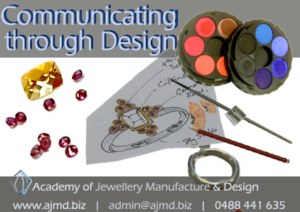 Bench drawings and basic rendering are a major part of our Manufacturing Jewellery Industry. They are used to communicate both with clients and their requirements to the Manufacturing Tradesperson working at the bench. This could also be you. This course will enable you to make sure your jeweller or customer, depending on how far you take your new-found skills, understands what is needed and being communicated with complete confidence.
2 Day program (12 hours) 9.30am to 4pm each day
Repairs and Plating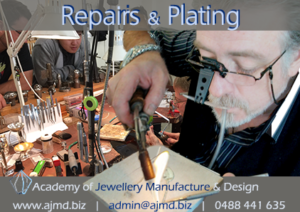 Other than normal wear and tear over time, if a piece breaks or needs repair it is often due to poor manufacturing processes or ill-conceived design. In other words, you will often be attempting to repair somebody else's inept manufacturing or previous repair work blunders.
To be able to identify and repair successfully we will teach you all the Hand Skills required and techniques to enable you to confidently resurrect the item to an acceptable standard.
Understanding how and why the manufacturing process is the way it is, will be fundamental to this course.
2 Day program (12 hours) 9.30am to 4pm each da